Component Reliability, Additive Printing, Flexible Electronics and PHM
In this research area, reliable component packaging technologies (BGA, CSP, 3D Packaging, QFN, etc.) are being developed for harsh environments such as automotive under-the-hood and aerospace applications. The major goal is to develop fundamental knowledge on the interactions between component design and material selection on package reliability and thermal performance in harsh thermal cycling and vibration environments. Deliverables include: crack propagation and damage models, thermal cycling reliability data, algorithms for prognostication, computational models for reliability and thermal performance, design guidelines and decision support tools, and models for shock, drop, and vibration.

Prognostics Health Management (PHM) is the interrogation of system state and the assessment of product survivability in deployed systems using non-destructive assessment of underlying damage. System health is generally assessed in the actual operating environment. The prior stress history to which the system may have been subjected may not be known in several cases. Prognostics Health Management is very different from reliability prediction, which often assumes pristine materials and uses models that require definitive specification of environmental loads.

Recently, PHM has emerged as a key enabling technology for providing an early warning of failure. Early warnings may be used to forecast planned maintenance and assess the potential for life extensions. PHM has been applied to machines, aircrafts, bridges, electronics, and bio-implantable systems. Avionic systems require ultra-high reliability operation with minimal downtime. Automotive safety features such as anti-lock braking, airbags, and collision avoidance systems depend on the electronics utilized for their performance and reliability. Implantable biological systems are often life sustaining in nature. Deployed electronic systems often may be subjected to multiple thermal environments. Thermal environments may change due to operational factors or changes in usage profiles. Decision support for re-deployment requires PHM-based methods for assessment of the operational readiness of electronic systems, which is based on accrued damage and residual life in the intended environment. PHM will enable self-cognizant systems capable of assessing their own real-time performance under actual usage conditions and adaptively trigger risk mitigation actions to virtually eliminate unplanned failures.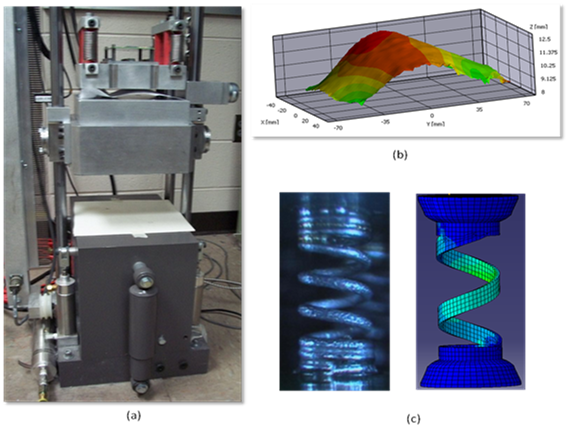 Area-Leader
Dr. Pradeep Lall (Research Leader)
Objectives
Development of Processing Recipes for Additive Printing of Electronics on Flexible Substrates and Non-Planar Surfaces
Develop Fundamental Knowledge on Electronic Material Constitutive Behavior and Damage Relationships in Harsh Environments
Develop Interaction Relationships for Component Architecture, Size, and Underfill on Reliability, Thermal Performance, and Manufacturing in Harsh Environments
Develop Computational Tools to Predict Reliability at Component- and System-level Based on Failure Physics
Develop Guidelines on the Selection and Use of Components in Harsh Environments
Develop Accelerated Test Data on Electronic Structures, including, but not limited to -- Metal Backed Boards and High Tg Laminates Subjected to Extreme Environments
The Objective of this Project is to Build a Fully Functional Flexible Medical Electronics System in Full Dimension to Study the Fabrication, Assembly, and Operation Related Failure Mechanisms (Project: P16-101)
A Set of Guidelines for Flexible Medical Electronics and an Implementable Reliability Test Standard can, therefore, be Established for Medical Device Manufacturers Based on these Reliability Assessments (Project: P16-101)
The Fabrication of Rapid-Response Flexible Bioelectronics Device Prototype and Mobile Application that can Reduce Paramedic Response Time and Help Save Lives (Project: P16-101)
Identify Leading Failures of Cu traces in Flex-PCB at High Bend Angles (Project: P18-101)
Establish the Stress Condition of Traces in Compression Versus Tension (Project: P18-101)
Perform ANOVA Analysis of the Test Groups in Tension and Compression to Show if there is a Difference in the Fatigue Life of the Parts (Project: P18-101)
Develop a New Test Protocol for the Flexible Substrate in Wearable Applications (Project: P18-101)
Feature Extraction and Health Monitoring of Electronic Components by Measuring the Strain Values (Project: P18-102)
Extract Useful Information from the Buried Frequecy Components in the Vibration Signal (Project: P18-102)
Find a Way to Predict the Prognostic Behavior Using Statistical Techniques as well as Frequency Content of the Vibration Signal (Project: P18-102)
Determine the Dependency of Frequency Components to the Strain Amplitudes during the Course of Vibration (Project: P18-102)
Understand Reliability of Compliant Interconnects in High-G Environments (Project: P18-103)
Reliability of Large Passives and Fine-Pitch Interconnects on Organic PCBs (Project: P18-103)
Development of Supplemental Restraint Mechanisms including Underfills and Potting Compounds for Enhancement of Survivability at High-G Loads (Project: P18-103)
Quantification of Failure Modes and Physics of Failure Mechanisms (Project: P18-103)
Development of Predictive Failure Models for the Assessment of Reliability under High-G Shock Loads (Project: P18-103)
Measure the High Strain Rate Properties of Doped and Undoped SAC and SACx Leadfree at High and Low-Operating Temperatures (Project: P18-104)
Quantify the Effect of Sustained Exposure to High Aging Temperature of 100°C on the Physics-of-Failure of Aging in SAC and SACx Alloys (Project: P18-104)
Correlate the Grain Orientation in the Solder Specimen with High Strain Rate Properties (Project: P18-104)
Implement Constitutive Models for the Reliability Prediction of High Strain Rate, High-Temperature, and Low-Temperature Environments (Project: P18-104)
Find Optimum Process Parameters that Minimize Resistance of the Resultant Printed Line (P18-105)
Study the Effect of Varying Sintering Time and Sintering Temperature on Resistance and Shear Load to Failure of 3D Printed Lines (P18-105)
Study the Cause of the Resultant Trend (P18-105)
Study the Combined Effects of Distinct Bending Load (15°) and Operating Temperatures Flexible Lithium-Ion Power Sources (P18-106)
Evaluate the Simultaneous Effects for Different Charging and Discharging Rates (0.5C and 1C) (P18-106)
Characterize Power Source Parameters such as Efficiency, Capacity, and Charge-Discharge Time (P18-106)
Develop a Life Prediction Model for Li-Ion Power Source (P18-106)
Methods for Risk Mitigation of Use of COTS Parts in High-Rel Harsh Environment Applications (Project: P18-107)
Evaluate Metrics for Qualification of Mold Compounds with Reduced Failure Propensity for Cu, PCC, Ag interconnects (Project: P18-107)
Measure the Diffusion Coefficients and Polarization Curves at High Temperature and High Voltage (Project: P18-107)
Correlate the Corrosion Physics with the Change Interconnect Resistance and Shear Strength (Project: P18-107)
Life Prediction Model and Comparison with Experimental Data Acquired at High Voltage, High Current, and High Temperature (Project: P18-107)
Project Titles 
P16-101      Test Protocols for Flexible Electronics Systems
P18-101      Test Methods and Standards for FHE
P18-102      PHM of Electronic Systems under Simultaneous Temperature and Vibration
P18-103      System Models for High-G Survivability and Reliability 
P18-104      High Strain-Rate Properties of Electronic Materials at High and Low Operating Temperatures 
P18-105      Additive Methods for Electronic Assemblies
P18-106      SOC Modeling of Power Sources
P18-107      Usage of COTS Copper-Aluminum Wirebond Parts in Harsh Environments
Posters
Methods for Survivability Assurance of Fine Pitch Electronics Subjected to Mechanical Shock up to 25,000g - Kalyan Dornala (ME), Aathi Pandurangan (ME)
Analysis of Progressive Damage in Fuze Electronics using Micro-Computed Tomography and Finite Element Models - Nakul Kothari (ME), Mrinmoy Saha (ME)
Flexible Power-Source Survivability Assurance under Bending Loads and Operating Temperatures Representative of Stresses of Daily Motion - Amrit Abrol (ME)
Assessment of Flexible Power Sources in Foldable Wearable Electronics under Stresses of Daily Motion During Operation - Amrit Abrol (ME), Ved Soni (ME)
Measurement and Prediction of Interface Crack Growth at the PCB-Epoxy Interfaces under High-G Mechanical Shock - Kalyan Dornala (ME)
Thermo-Mechanical Deformation in Flexible-Board Assemblies During Reflow and Post-Assembly Usage - Kartik Goyal (ME)
Analysis of Fatigue Life of Flexible Electronics in Cyclical Folding - Hyesoo Jang (ME)
Development of Test Protocols for the Flexible Substrates in Wearable Applications  - Jinesh Narangaparambil (ME), Amrit Abrol (ME)
Mechanical and Electrical Characterization of Electrical Lines Printed with Aerosol Jet Printing-based Additive Manufacturing Process - Nakul Kothari (ME), Amrit Abrol (ME)
A Novel Numerical Multiphysics Framework for the Modeling of Cu-A1 Wire Bond Corrosion under HAST Conditions  - Yunli Zhang (ME)
Effect of Green EMCs on Fatigue Reliability of Molded Cu Wirebonded Systems - Nakul Kothari (ME), Madhu Kasturi (ME)
Effect of Prolonged Storage up to 1-year on the High Strain Rate Properties of SAC Lead Free Alloys at Operating Temperatures of up to 200°C - Vishal Mehta (ME)
Assessment of Damage Progression in Automobile Electronics Assemblies Subjected to Temperature and Vibration - Tony Thomas (ME)
Feature Extraction and RUL Prediction of SAC Solder Alloy Packages by Different Statistical and Time-Frequency Analysis Techniques under Simultaneous Temperature-Vibration Loads - Tony Thomas (ME)
Viscoplastic Constitutive Model for High Strain Rate Mechanical Properties of SAC-Q Leadfree Solder after High-Temperature Prolonged Storage - Vikas Yadav (ME)
Reliability of SAC Leadfree Solders in Automotive Underhood Temperature-Vibration  - Vikas Yadav (ME)
Effect of Shallow Cycling on Flexible Power-Source Survivability under Bending Loads and Operating Temperatures Representative of Stresses of Daily Motion - Amrit Abrol (ME), Pradeep Lall (ME)
Reliability of Flexible Substrates under Stresses of Daily Motion - Jinesh Narangaparambil (ME), Amrit Abrol (ME), Pradeep Lall (ME)
Measurement of Interfacial Fracture Toughness and Cohesive-Zone Models of Potting Compounds with FR4 PCBs - Kalyan Dornala (ME), Pradeep Lall (ME)
High-G Shock Reliability of Micro-Coil Springs and Polymer Core Ball Interconnects - Kalyan Dornala (ME), Pradeep Lall (ME)
Reliability of SAC305 Solder Interconnects on Double-Sided Flexible Printed Circuit Board Using X-Ray Micro-CT - Kartik Goyal (ME), Pradeep Lall (ME)
Reliability of a Fuze Assembly Using Micro-CT data based FE and Digital Volume Correlation - Nakul Kothari (ME), Pradeep Lall (ME)
Characterization of Electrical and Mechanical Material Properties Using Aerosol Jet Printing-Based Additive Manufacturing Process - Nakul Kothari (ME), Amrit Abrol (ME), Pradeep Lall (ME)

Representative Recent Publications

Component Reliability:

Lall, P., Deshpande, S., Nguyen, L., Reliability of Copper, Gold, Silver, and PCC Wirebonds Subjected to Harsh Environment, Proceedings of the IEEE 2018 Electronic Components and Technology Conference (ECTC2018), San Diego, CA, pp. 724-734, May 29-June 1, 2018.

Lall, P., Luo, Y., Nguyen, L., Numerical Multiphysics Model for Cu-Al Wire Bond Corrosion subjected to Highly-Accelerated Stress Test, Proceedings of the IEEE 2018 Electronic Components and Technology Conference (ECTC2018), San Diego, CA, pp. 1628-1638, May 29-June 1, 2018.

Lall, P., Dornala, K., Deep, J., Lowe, R., Measurement and Prediction of Interface Crack Growth at the PCB-Epoxy Interfaces Under Hi-G Mechanical Shock, Proceedings of the IEEE 2018 Intersociety Conference on Thermal and Thermomechanical Phenomena in Electronic Systems (ITherm2018), San Diego, CA, pp. 1097-1105, May 29-June 1, 2018.

Chen, J., Nguyen, Q., Roberts, J.C., Suhling, J.C., Jaeger, R.C., Lall, P., Moisture-Induced Die Stresses in PBGA Packages Exposed to Various Environments, Proceedings of the IEEE 2018 Intersociety Conference on Thermal and Thermomechanical Phenomena in Electronic Systems (ITherm2018), San Diego, CA, pp. 1112-1119, May 29-June 1, 2018.

Lall, P., Goyal, K., Leever, B., Marsh, J., Thermal-mechanical Deformation in Flexible-Board Assemblies During Reflow and Post-Assembly Usage, Proceedings of the IEEE 2018 Intersociety Conference on Thermal and Thermomechanical Phenomena in Electronic Systems (ITherm2018), San Diego, CA, pp. 26-31, May 29-June 1, 2018.

Lall, P., Kothari, N., Assessment of Reliability of Missile Fuze using Micro-CT Data Based Finite Element Technique with Digital Volume Correlation, Proceedings of the IEEE 2017 Intersociety Conference on Thermal and Thermomechanical Phenomena in Electronic Systems (ITherm2017), Orlando, FL, pp. 1131-1138, May 30-June 2, 2017.

Lall, P., Dornala, K., Lowe, R., Effectiveness of Potting Methods and Underfills on the Enhancement of Survivability of Fine Pitch Electronics at 25,000g Shock Loads, Proceedings of the IEEE 2017 Intersociety Conference on Thermal and Thermomechanical Phenomena in Electronic Systems (ITherm2017), Orlando, FL, pp. 1262-1274, May 30-June 2, 2017.

Lall, P., Deshpande, S., Nguyen, L., ANN Based RUL Assessment for Copper-Aluminum Wirebonds Subjected to Harsh Environments, Proceedings of the IEEE 2016 International Conference on Prognostics and Health Management (ICPHM2016), Ottawa, ON, pp. 1-10, June 20-22, 2016.

Lall, P., Deshpande, S., Nguyen, L., Principal Components Regression Model for Prediction of Acceleration Factors in Copper-Aluminum Wirebonds Subjected to Harsh Environments, Proceedings of the IEEE 2016 Electronic Components and Technology Conference (ECTC2016), Las Vegas, NV, pp. 637-647, May 31-June 3, 2016.

Lall, P., Abrol, A., Simpson, L., Glover, J., A Study on Damage Progression in MEMS Based Silicon Oscillators Subjected to High-G Harsh Environments, Proceedings of the IEEE 2016 Intersociety Conference on Thermal and Thermomechanical Phenomena in Electronic Systems (ITherm2016), Las Vegas, NV, pp. 546-559, May 31-June 3, 2016.

Lall, P., Dornala, K., Suhling, J., Lowe, R., Foley, J., Life Prediction and RUL Assessment of Fine Pitch Solder Joint Fuze Electronics Under Mechanical Shock Loads up to 50,000g,  Proceedings of the IEEE 2016 Electronic Components and Technology Conference (ECTC2016), Las Vegas, NV, 232-243, May 31-June 3, 2016.

Additive Printing:

Lall, P., Narangaparambil, J., Abrol, A., Leever, B., Marsh, J., Development of Test Protocols for the Flexible Substrates in Wearable Applications, Proceedings of the IEEE 2018 Intersociety Conference on Thermal and Thermomechanical Phenomena in Electronic Systems (ITherm2018), San Diego, CA, pp. 1120-1127, May 29-June 1, 2018.

Flexible Electronics:

Lall, P., Narangaparambil, J., Abrol, A., Leever, B., Marsh, J., Development of Test Protocols for the Flexible Substrates in Wearable Applications, Proceedings of the IEEE 2018 Intersociety Conference on Thermal and Thermomechanical Phenomena in Electronic Systems (ITherm2018), San Diego, CA, pp. 1120-1127, May 29-June 1, 2018.

Lall, P., Zhang, H., Lall, R., Novel Flexible Bioelectronics Device and Software Application for Prevention of Sudden Causes of Death, Proceedings of the IEEE 2018 Intersociety Conference on Thermal and Thermomechanical Phenomena in Electronic Systems (ITherm2018), San Diego, CA, pp. 37-45, May 29-June 1, 2018.

Lall, P., Zhang, H., Lall, R., Flexible Wearable Biometric Band and Smartphone Application for Prevention of Sudden Causes of Death, Proceedings of the IEEE 2018 Electronic Components and Technology Conference (ECTC2018), San Diego, CA, pp. 1790-1797, May 29-June 1, 2018.

Lall, P., Goyal, K., Leever, B., Marsh, J., Thermo-mechanical Deformation in Flexible-Board Assemblies During Reflow and Post-Assembly Usage, Proceedings of the IEEE 2018 Intersociety Conference on Thermal and Thermomechanical Phenomena in Electronic Systems (ITherm2018), San Diego, CA, pp. 26-31, May 29-June 1, 2018.

Lall, P., Abrol, A., Leever, B., Marsh, J., Effects of Shallow Cycling on Flexible Power-Source Survivability under Bending Loads and Operating Temperatures Representative of Stresses of Daily Motion, Proceedings of the IEEE 2018 Electronic Components and Technology Conference (ECTC2018), San Diego, CA, pp. 2351-2358, May 29-June 1, 2018.

Lall, P., Abrol, A., Leever, B., Marsh, J., Flexible Power-Source Survivability Assurance under Bending Loads and Operating Temperatures Representative of Stresses of Daily Motion, Proceedings of the IEEE 2018 Intersociety Conference on Thermal and Thermomechanical Phenomena in Electronic Systems (ITherm2018), San Diego, CA, pp. 1027-1034, May 29-June 1, 2018.

Lall, P., Zhang, H., Test Protocol for Assessment of Power Sources in Foldable Wearable Electronics Under Stresses of Daily Motion During Operation, Proceedings of the IEEE 2017 Electronic Components and Technology Conference (ECTC2017), Orlando, FL, pp. 804-814, May 30-June 2, 2017.

Lall, P., Wei, J., X-Ray Micro-CT and DVC Based Analysis of Strains in Metallization of Flexible Electronics, Proceedings of the IEEE 2017 Intersociety Conference on Thermal and Thermomechanical Phenomena in Electronic Systems (ITherm2017), Orlando, FL, pp. 1253-1261, May 30-June 2, 2017.

Lall, P., Goyal, K., Study on the Effect of Fixtures on Deformation and Warpage of the Double-Sided Flexible Printed Circuit Board through Reflow using DIC, Proceedings of the IEEE 2017 Intersociety Conference on Thermal and Thermomechanical Phenomena in Electronic Systems (ITherm2017), Orlando, FL, pp. 1306-1314, May 30-June 2, 2017.

Lall, P., Zhang, H., Prognostication of Remaining Useful-Life for Flexible Batteries in Foldable Wearable Electronics, Proceedings of the IEEE 2016 International Conference on Prognostics and Health Management (ICPHM2016), Ottawa, ON, pp. 1-10, June 20-22, 2016.

PHM:

Lall, P., Zhang, H., Prognostication of Remaining Useful-Life for Flexible Batteries in Foldable Wearable Electronics, Proceedings of the IEEE 2016 International Conference on Prognostics and Health Management (ICPHM2016), Ottawa, ON, pp. 1-10, June 20-22, 2016.

Lall, P., Deshpande, S., Nguyen, L., ANN Based RUL Assessment for Copper-Aluminum Wirebonds Subjected to Harsh Environments, Proceedings of the IEEE 2016 International Conference on Prognostics and Health Management (ICPHM2016), Ottawa, ON, pp. 1-10, June 20-22, 2016.



Publications